Warm greetings to donors, partners and readers!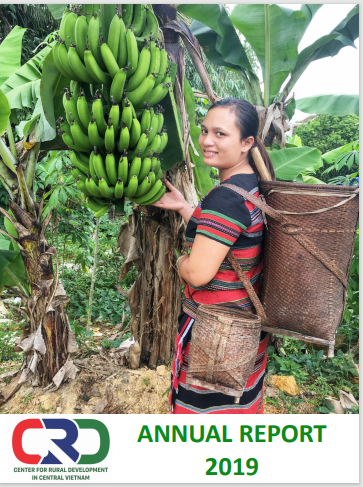 The Center for Rural Development in Central Vietnam (CRD), University of Agriculture and Forestry, Hue University which was founded in 1995, has committed to serve for agricultural and rural development mainly in Central provinces. In the past 24 years, CRD has made every endeavour to become a professional organization and acquired good domestic and international reputation. For its contributions to society, CRD has been greatly appreciated by donors, state management agencies, local governments, partners and beneficiaries.
In 2019, CRD implemented 9 projects in 9 provinces of Quảng Bình, Quảng Trị, Thừa Thiên Huế, Quảng Nam, Quảng Ngãi, Bình Định, Phú Yên, Đồng Nai and Lào Cai focusing on training, technology transfer and policy advocacy.
It is delighted when our activities have practically contributed to communities, especially the poor and vulnerable people in project areas. The direct beneficiaries of our projects in the year include small businesses, individual business households, poor farmers, ethnic minorities and children in remote and rural regions.
CRD's remarkable achievements in the past year can be listed as improving income for people in mountainous areas so that they are less dependent on forests resources to earn their living; building capacity and raising awareness of forest protection and management for officials and farmers; providing knowledge in VPA-FLEGT process for small businesses and individual business households to better prepare for the legality of timber in supply chains; equipping knowledge and skills for vulnerable communities in coastal areas to better respond to climate change and natural disasters; enhancing capacity of CRD partners to support communities, businesses and farmers in production, business, environmental protection and other social work activities such as child protection and gender quality.
We do hope the Annual Report 2019 helps you get an overall picture of CRD's activities and contributions to society in this year.
On CRD behalf, I would like to express my sincere thanks to donors, state management agencies, partners, colleagues and beneficiaries who have enthusiastically cooperated with CRD and given us valuable support to implement activities in the year 2019. We wish to continuously receive your kind support and companionship in the upcoming year.
For CRD team
Trương Quang Hoàng
Please click link here:  Annual Report 2019_final