Recently, the Centre for Rural Development in Central Vietnam (CRD) was certified as an organization with good practice on Transparency and Accountability in 2016-2017 at the closing ceremony of the Inspiring CSOs 2016 which was held on October 18th 2016 in Ha Noi.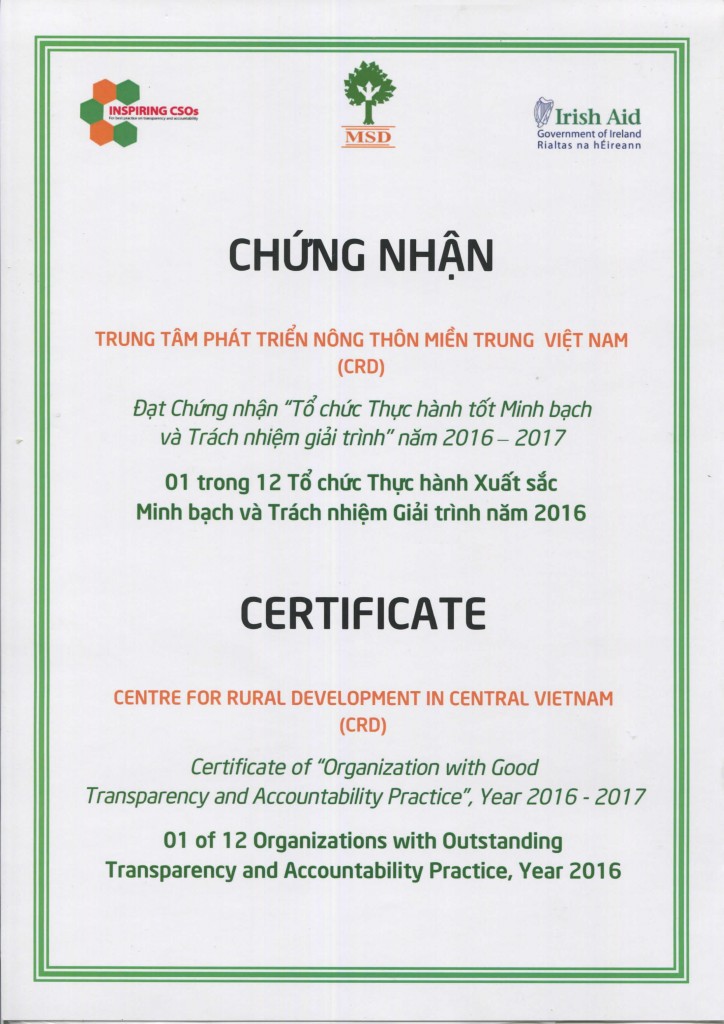 This is an event within the framework of the program "Inspiring CSOs Culture on Transparency and Accountability'' (Inspiring CSOs) – an annual program delivered by the Research Center for Management and Sustainable Development (MSD), sponsored by Irish Aid.
CRD was recognized as one of the 12 organizations with best practice on transparency and accountability in 2016 (Best TAP 2016) out of 49 applicants nationwide.
The evaluation and selection process was carried out from May to October 2016 by an independent evaluation committee of 4 experts through 3 rounds: profile evaluation, direct evaluation and final presentation round.
At the presentation round, CRD shared a touching story about Ms. Nguyen Thi Huong, a woman with disabilities who overcame her tragic fate to become a positive member of a mushroom manufacturing and trading enterprise for the disabilities in Phong My commune. Ms. Huong is just a representative of over 50,000 people benefited from CRD's projects.
The program is a forum for CRD to share with partners and beneficiaries the transparency and accountability of the organization, which are the core values that CRD has developed and confirmed over the last 20 years. Through the program, CRD has positioned its brand on the map of good transparency and accountability practice in Vietnam.