On February 17, the Hue University of Agriculture and Forestry (HUAF) had a meeting with University of Hannover, Germany, represented by Prof. Hermann Waibel, Director of the Institute of Development and Agricultural Economics, Faculty of Economics and Management, and Pro.Ulrike Grote, lecturer.
Attended the meeting were Assoc.Prof. Le Van An – Rector of HUAF, Assoc.Prof. Phung Thang Long – Vice Rector, Dr. Pham Huu Ty – Head of Department of Science – Technology & International Relations, Dr. Truong Quang Hoang – Director of Centre for Rural Development in Central Vietnam (CRD), and a number of CRD staff.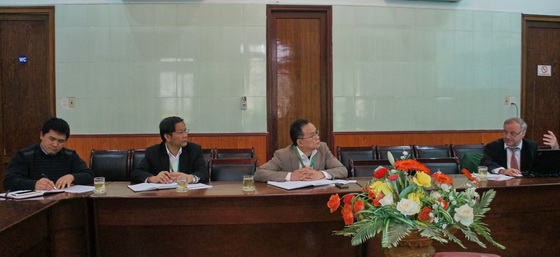 Prof. Hermann Waibel – University of Hannover, Germany introduced about the project at the meeting
At the meeting, Prof. Hermann Waibel gave an overall introduction about a long-term   data collection and analysis project jointly conducted by University of Hannover and CRD in 03 provinces of Vietnam, including Ha Tinh, Dak Lak and Thua Thien Hue. The project is financed by German Research Foundation (Deutsche Forschungsgemeinschaft – DFG) with a view to enhance researches on poor dynamics and sustainable development. The project has been developed on the basis of a DFG-funded project named: "Impact of shocks on the vulnerability to poverty: consequences for the development of emerging Southeast Asian economies" successfully implemented by University of Hannover and HUAF via the CRD since 2008.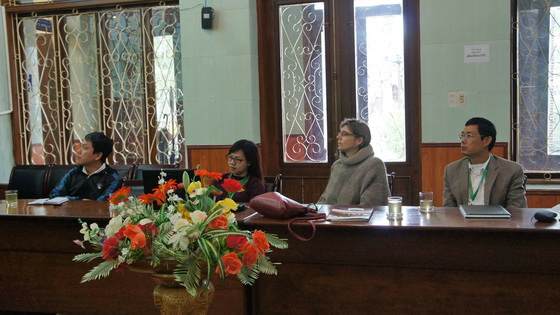 At the meeting
The participants discussed a number of issues relating to the cooperation of the two universities in establishing a National Research Data Collection Center at HUAF for data collection, storage and management on socio-economic researches on sustainable development. The project will last 02 years (from 2016 to 2018) in which surveys of rural households will be conducted in 2016 and 2017. During the project implementation, the contract can be extended, expectedly to 2024, if DFG evaluates the project as successful.
After one hour discussion and information exchange, the leaders of the two universities expressed their hope that all the stages of the project would be implemented effectively to   achieve its set objectives. More discussion will be held before all the provisions are agreed and the MOU between the 02 universities is signed.
The meeting ended at 16h on the same day.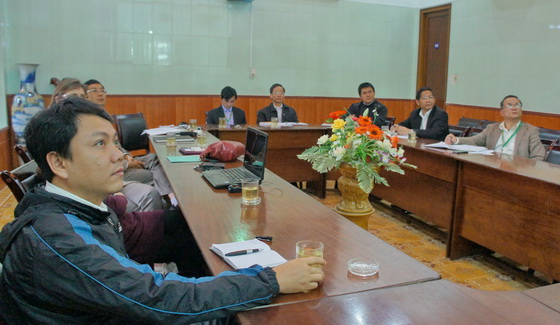 The participants at the meeting