Not only an implementation but also a creativeness
Having just been surprised at the green tree campus in Nam Tra Hamlet (Huong Tra Commune, Huong Khe District), we all were definitely attracted by shady trees and purple flowers tinged with country soul in Chau Trinh Hamlet (Tung Anh Commune, Duc Tho District) and Huong My Hamlet  (Xuan My Commune, Nghi Xuan District). "It seems that my childhood revives. Many people think that New Rural Development means urbanization of the countryside or construction of cold brick walls. Both rural and urban people miss the fences of hibiscus, Man Hao tea, or fruit trees that were once the beauties of the village.",  said Ms. Vo Thi Kim Cuc, Chief of Women Union of Phong My Commune, Phong Dien District, Thua Thien Hue Province.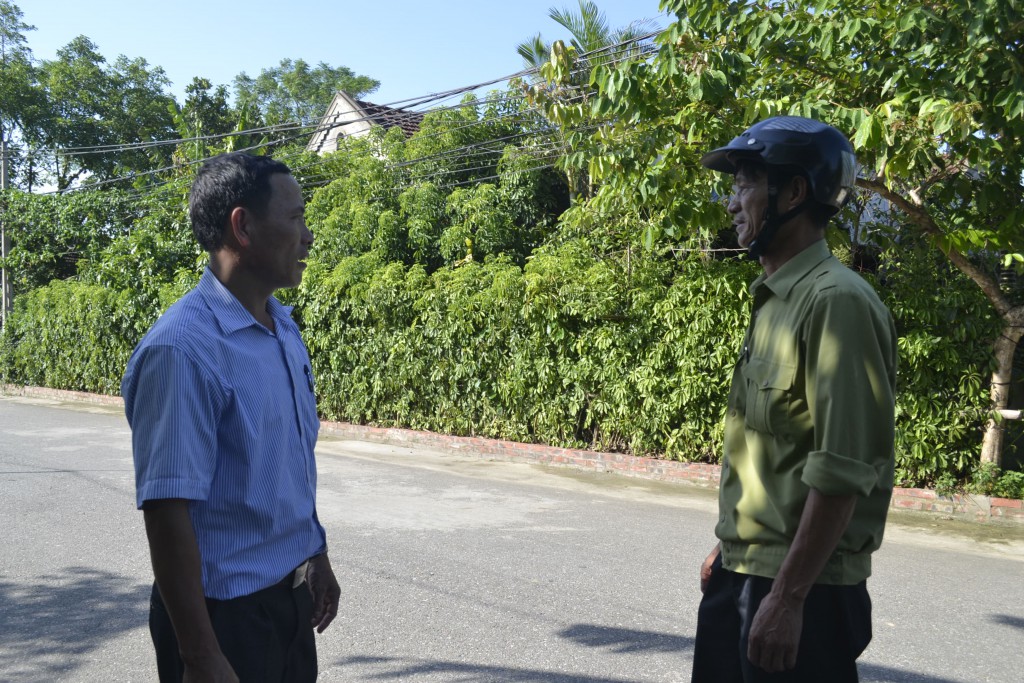 Green fence in Vietnamese style
These were model residential areas with Vietnamese style – the achievement after implementing19 criteria of the National Target Program on New Rural Development in Ha Tinh Province. Roads were built, income per capita was 31 million/year in Nam Tra, 28 million/year in Tung Anh and 25 million/year in Xuan My. Economic values of gardens and households increased incessantly, houses were arranged, unstable housing were eliminated and many subordinate works were displaced… However, river wharves and banyan trees were retained to preserve and promote local cultural traditions. Besides the appearance change were slogans of 3 Clean "Clean roads, Clean gardens, Clean houses", "Those who litter are not people of Nam Tra hamlet", 4 words "Hello, Please, Sorry, Thank you" as well as direct dialogues with each of the people, which created pervasiveness in sentimental attachment and considerateness of model new rural people and became sustainable core values ​​in new rural development.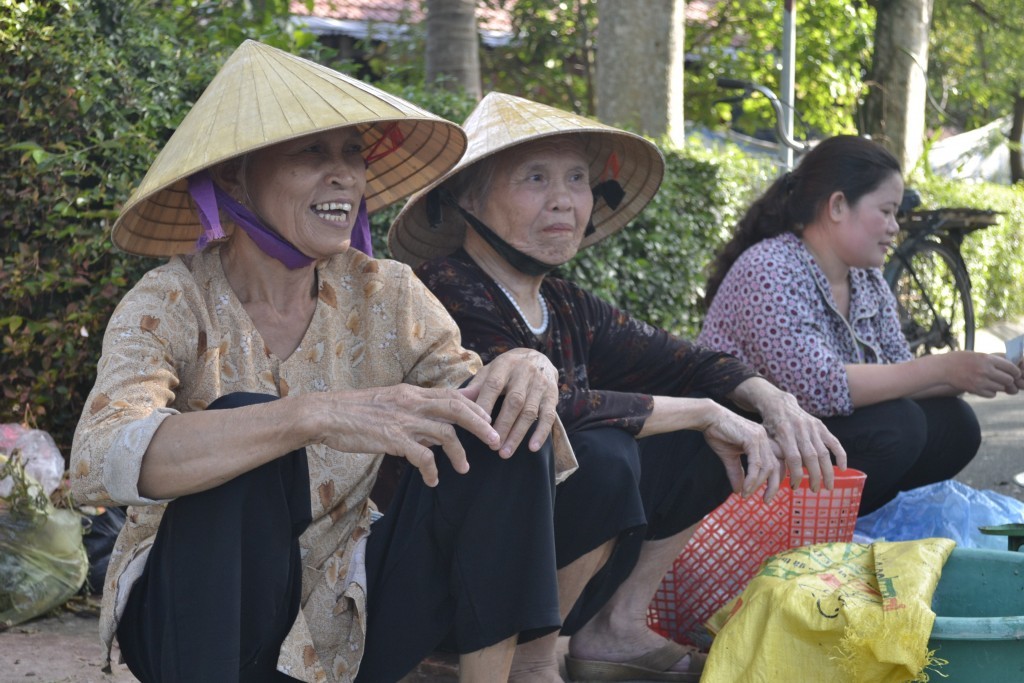 Hospitable people in Tung Anh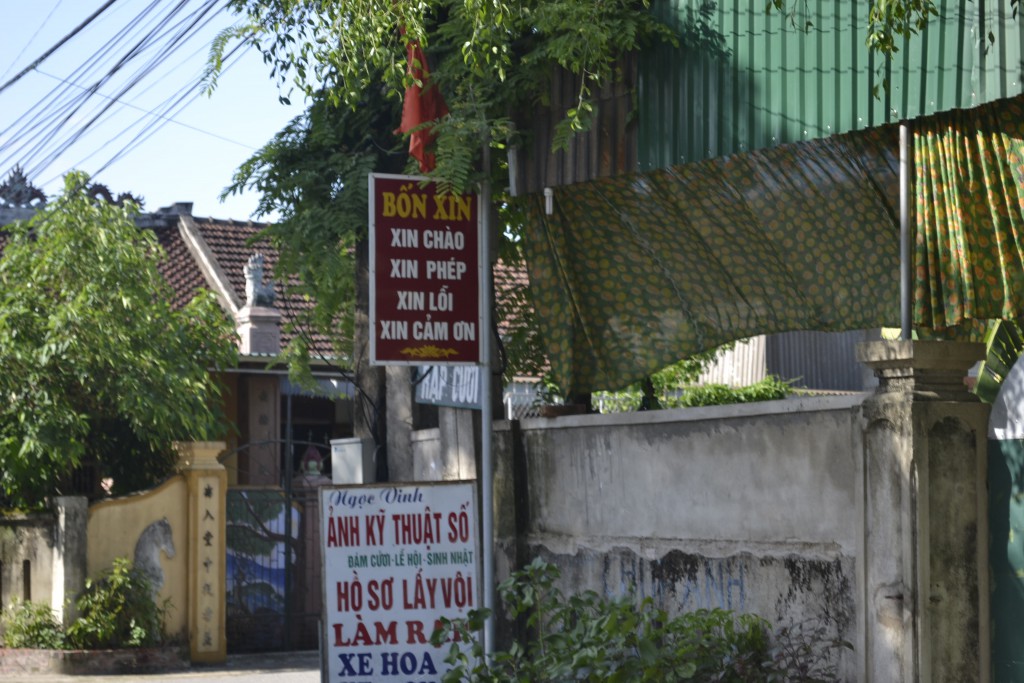 Slogans encouraging the people to live with sentimental attachment and considerateness
By the end of 2014, Ha Tinh province had 46 model residential areas established, hundreds of model gardens built, and 20 hamlets and  communes achieving new rural development goals. However, behind that powerful transformation, few people knew that at the time when new rural development was introduced in Ha Tinh, only 5.1 criteria were fulfilled per commune, there were 69/231 communes meeting under 5 criteria, 20 communes even met no criterion at all, and the average income in rural areas was 8,47 million/person/year. However, at present the rate has risen to 9 criteria/commune. The difficulties did not prevent theo people in Ha Tinh from losing their initiatives and audacity in both thinking and doing.
Audacious thinking, strict implementation
The visitors of the study tour organized by the Centre for Rural Development in Central Vietnam, started from Hue city and Ha Tinh was the first stop. All of the 27 members including the representatives of Program Coordination Office of the National Target Program on New Rural Development in Thua Thien Hue Province, key officials and farmers of Thuong Nhat Commune, Nam Dong District and Phong My Commune, Phong Dien District have had an opportunity to learn many valuable experiences from the implementation of the program in this province after several years.
Setting 20 out of 19 criteria according to the National Target Program on New Rural Development, Ha Tinh challenged itself both in thinking and implementation. "The determination of the leader is the prerequisite of New Rural Development. If the leaders dare to think, to do, to change, and are pioneers in implementing important guidelines and policies, the districts, communes, hamlets and people will follow and implement successfully" said Mr. Dao Viet Hung of Program Coordination Office on New Rural Development in Ha Tinh Province.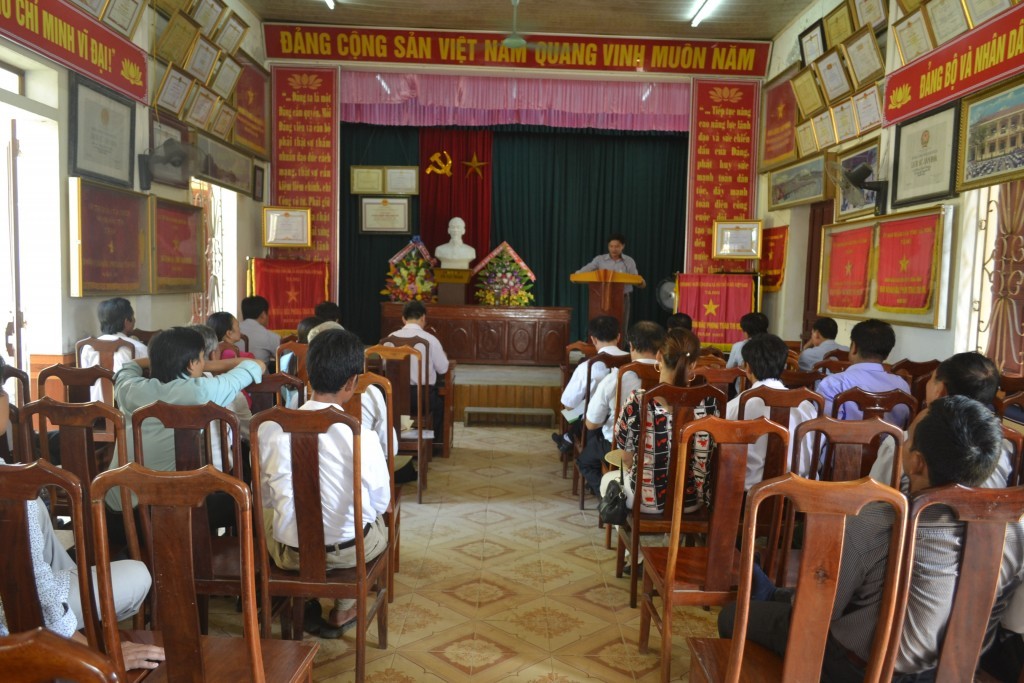 The visitors listening to experience sharing in the People's Committee of Tung Anh Commune
Telling about lessons learnt in New Rural Development, Mr. Phan Tien Dung, Chairman of People's Committee of Tung Anh Commune
emphasized "For propaganda, we "Talk less, talk clearly, and talk specifically". 03-paged guidance from the Central are summarized into only 3 brief dashes, making it easier for hamlets and communes to follow. Talk less do more, guide and assign tasks for the people". He further revealed that emulation, commendation, reward and timely encouragement to dedicated individual/ community was also a way to promote common consent among the people. Thanks to the successful propaganda campaigns and grassroots democracy, the subordinate works and welfare of Tung Anh have been mobilized from various sources,  the largest of which, however, was from the people's contribution. The others came from the fellow-countrymen living far away from their native land, from other projects/programs. The District has also attracted 16 enterprises investing on its infrastructure.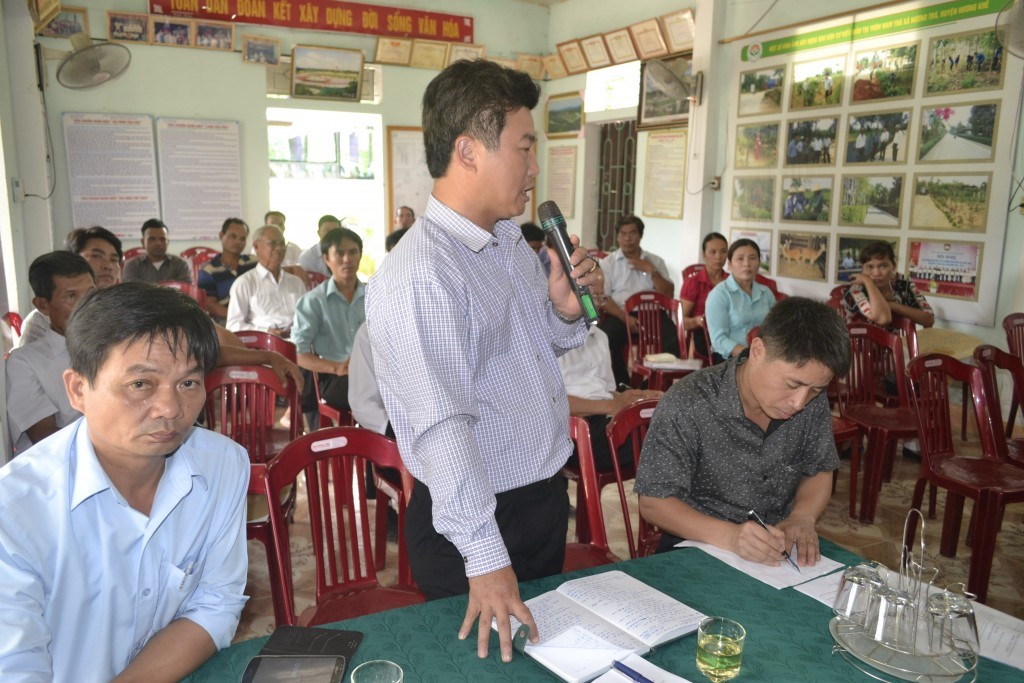 Representatives of the visitors asking about the implementation methods of New Rural Development
These above-mentioned model residential areas achieved the New Rural Development targets in lately 2013 and early 2014, However, it is believed that with audacious thinking, appropriate and flexible implementation, the rural area of Ha Tinh will be more and more beautiful and prosperous in future./.
Bao Hoa
Top of Form